Written by Greg McLean. Originally published 19-Jun-2018
Port Douglas is renowned as an idyllic location to soak up the reef and rainforest, but it's also a great launch pad for day trips that showcase the diversity of the tropics.
Within a short drive you can find yourself in the middle of the most ancient rainforest on earth, stumbling upon freshwater swimming holes, or drinking at one of Australia's most iconic pubs, and be back in your sun lounger in time for that afternoon cheese platter.
Itching to explore? Here are five of the best day trips from Port Douglas (and what to look out for along the way).
Fasten your seat belts and enjoy the ride!
1. Cape Tribulation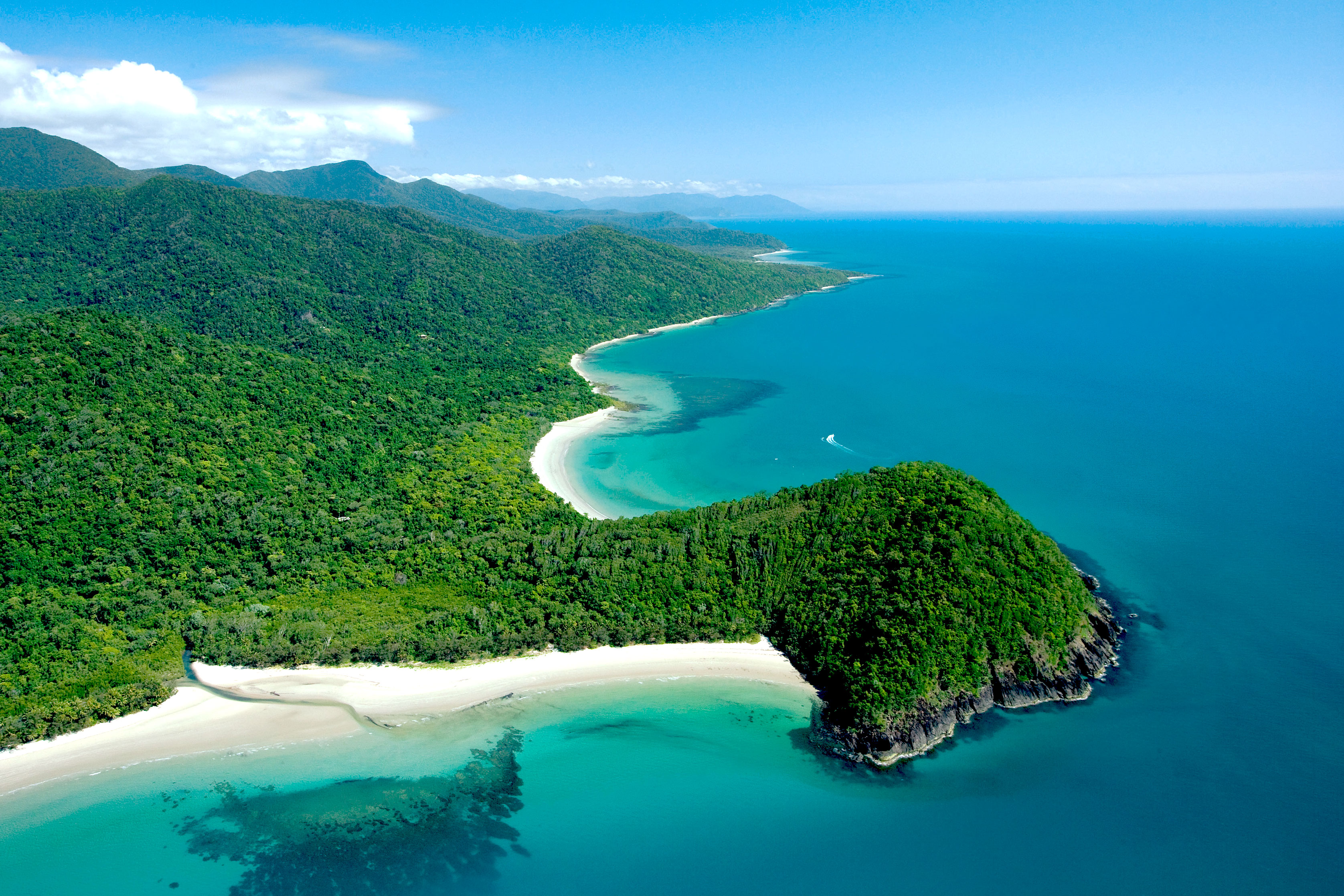 It takes about 40 minutes to reach the famous car ferry that transports you across the Daintree River before you are swallowed up by the world's oldest rainforest.
Once you're immersed in the flora and fauna that has evolved in the Daintree Rainforest for over 60 million years, get adventurous with tours including Jungle Surfing, fruit-tasting, electric bike and snorkelling or simply make your own way through the majestic rainforest on one of the free walking trails.
Must Do: Enjoy a taste of the tropics at the Daintree Ice Cream Company just north of Cow Bay.
Hidden Treasure: Take the first right after the ferry to discover the remote Cape Kimberley beach overlooking Snapper Island.
Handy Hint: Stop off at the information centre in the Daintree Ferry car park for more details on the walking trails.
Travel Time: Port Douglas to Cape Tribulation – approximately 2 hours.
2. Cooktown via the Bloomfield Track
It's a big day on the road, but it's possible to get to Cooktown and back if you've got a four-wheel-drive.
The unsealed Bloomfield Track starts just north of Cape Tribulation and includes a couple of creek crossings before reaching the Aboriginal community of Wujal Wujal.
Be sure to stop along the way at the iconic Lion's Den Hotel before the road links up with the highway just south of Cooktown, where Captain Cook first set foot on Australian soil in 1770.
If you don't have a four-wheel-drive or would like a change of scenery on the way home, you can travel back via the inland Mulligan Highway.
Must Do: Visit Bloomfield Falls in Wujal Wujal.
Hidden Treasure: Stop off at the iconic Lion's Den for lunch and enjoy a refreshing dip in the waterhole out the back.
Handy Hint: Download the Bloomfield Track Experience Guide before you go for an insightful interpretive journey.
Travel Time: Port Douglas to Cooktown – approximately 3.5 hours.
3. Mossman to Daintree Village
Time to meet the neighbours! You can easily spend a full day exploring the back roads between Mossman and Daintree Village on the southern side of the mighty Daintree River.

From pristine swimming holes, delicious restaurants, relaxing spas and hidden waterfalls to historic bomb sites, roadside fruit stalls, croc-spotting river tours and art and jewellery galleries, don't be afraid to turn off the highway and simply follow your nose here. You can't take a wrong turn.
Must Do: Absorb not just the natural beauty of Mossman Gorge but the cultural significance of the Aboriginal-owned Mossman Gorge Centre.
Hidden Treasure: Get a taste of Australia's first cocoa and sugar cane experience with Sweet Farm Tours in the Whyanbeel. Your 1.5 hour tour takes you through a crash course in everything you wanted to know about a working cocoa and sugarcane farm … tastings optional, but of course, recommended.
Handy Hint: Grab a Mossman to Daintree River Tourist Map from your resort or local service station for more than 50 things to see and do in the area.
Travel Time: Port Douglas to Daintree Village – approximately 45 minutes.
4. Kuranda
The rainforest village of Kuranda is set up perfectly for day-trip visitors with artisan markets held daily.

You can get to Kuranda by following Great Barrier Reef Drive south to Smithfield on the outskirts of Cairns, where you can either park the car to experience the Kuranda Scenic Railway and Skyrail Rainforest Cableway or wind your way up the highway mountain range.
Must Do: The 10-minute walk to the Barron Falls lookout takes you right into the rainforest on elevated platforms with interpretive signage.
Hidden Treasure: Be sure to explore all the nooks and crannies at the Kuranda Original Rainforest Markets full of local artisans and craftspeople.
Handy Hint: Get in early with the markets open from 9:30am-3pm.
Travel Time: Port Douglas to Kuranda – approximately 1 hour.
5. The Tablelands
Incorporating the larger centres of Atherton and Mareeba, the Tablelands are a favoured foodies' paradise, home to spectacular waterfall circuits and the Historic Herberton Village.

The Waterfall Way at the southern end will help you to discover nine stunning waterfalls and closer to Port Douglas are the twin crater lakes of Barrine and Eacham, and recreational haven Lake Tinaroo.
Keen foodies can indulge in cheese and chocolate delights straight from the source, pour your own tropical wine or distilled spirit while sitting on a fruit orchard, roast a coffee as you watch the beans grow or even catch a barra for dinner from an aquaculture pond.
You can discover The Tablelands via the Rex Range between Port Douglas and Mossman, the Kuranda Range or the winding Gillies Range south of Cairns.
Must Do: Gallo Dairyland near Atherton offers the best of both worlds with a mouth-watering selection of locally-made chocolates and cheese and even has an animal nursery out the back so the kids can pat the farm animals.
Hidden Treasure: Located 12km from Mareeba, Granite Gorge is a fantastic spot to explore the former dinosaur stomping ground, hand-feed wallabies, watch turtles or enjoy a dip.
Handy Hint: Pack a picnic and appreciate the sounds of nature for lunch.
Travel Time: Port Douglas to Millaa Millaa Falls – approximately 2 hours 15 minutes. Port Douglas to Atherton – 1 hour 40 minutes.
What's your favourite day trip you've done from Port Douglas?