Take a walk on the wild side and get back to nature in one of the most beautiful places on earth. The peace and beauty of the World Heritage listed Daintree Rainforest is complemented by exciting adventure activities and opportunities to mix with the locals – both two and four-footed species.
Here are seven fun-filled ideas to please every member of the family:
Crazy Critters Big and Small - Daintree Discovery Centre
The Daintree Discovery Centre is an amazing place to start your Daintree adventure with excitement and interest for families of all ages and mobility. Each visitor receives a fact-filled 68-page guide book, along with an audio guide in eight languages. There is also a cool kids tour. Interactive displays are geared for all age levels to learn about the rainforest in a fun and entertaining way. The whole family will be talking about the giant spiders, spiny leaf insects, beautiful snakes (that you can touch and handle if brave enough) and the interesting collection in the Daintree aquarium. Be warned! There are some mighty Australian "Jurassic" dinosaurs lurking in the rainforest, waiting for that perfect photo opportunity. One of the best attractions is the 23-metre high canopy tower that enables a fearless journey from the forest floor to the tops of the rainforest giants.
Ice cream and rescued joeys at Daintree Ice Cream Company
What could be nicer – ice cream and joeys! Your kids will love slurping a delicious, healthy ice cream made from fruit grown on the spot while watching rescued baby kangaroos hopping about. Daintree Ice Cream Company is a treat in itself. Visitors are welcome to wander about its lush grounds and tropical fruit orchard and, depending on the season, see the fruit growing. Its wildlife rescue centre specialises in raising orphaned macropods – kangaroos, wallabies and pademelons (the smallest of this group only found in rainforests).
Spot Nemo on the Reef - Ocean Safari
Everyone's favourite clown fish can be found right here on the pristine reefs off Cape Tribulation. Your kids will be able to look for Nemo and a kaleidoscope of tropical fish as well as turtles swimming over colourful coral. Also watch for eagle rays, giant clams and starfish on the seabed. Two different snorkel sites make this a 'Serengeti of the sea' for the whole family. Children must be two years and over to travel on Ocean Safari.
Cruising with Crocs on the Daintree River

Take a cruise with the monsters of the Daintree – saltwater crocodiles. These masters of the murk will impress the clan with their sheer size and strength and the brilliance of their engineering. This species has survived and continued to evolve for millions of years despite the efforts of the planets greatest predators – humans. Crocs specialised armour includes ridges on their back that ensure they glide through the water with virtually no ripple – all the better for a successful ambush. You won't be cuddling one, and as the kids say, Respect!
Swim with the turtles at Mason's Swimming Hole
Masons Swimming Hole behind Mason's Café is a must do – the water is clear, its ringed by rainforest and scores of freshwater turtles and native fish thrive here. There are also lots of bright blue Ulysses Butterflies fluttering around, and your kids will love it – as the Mason's sign says – "there are NO crocodiles in the swimming hole – they are in our burgers". The café does a tasting platter of croc, camel and buffalo burgers. Find this spot at the home of Mason's Tours.
Goannas and beach boardwalks at Cape Trib
Take a stroll along one of the boardwalks that dissects the rainforest to experience this ancient ecosystem. You may even see a goanna! The most accessible walk for younger children is the Marrdja (Kuku Yalanji speak for rainforest) Boardwalk, a looped track that begins and ends at Oliver's Creek and is just over one kilometre long. The kids can imagine they are George and Georgina of the jungle in this enchanted and diverse pocket that includes various mangrove species. Information signs add to an interesting interpretive experience.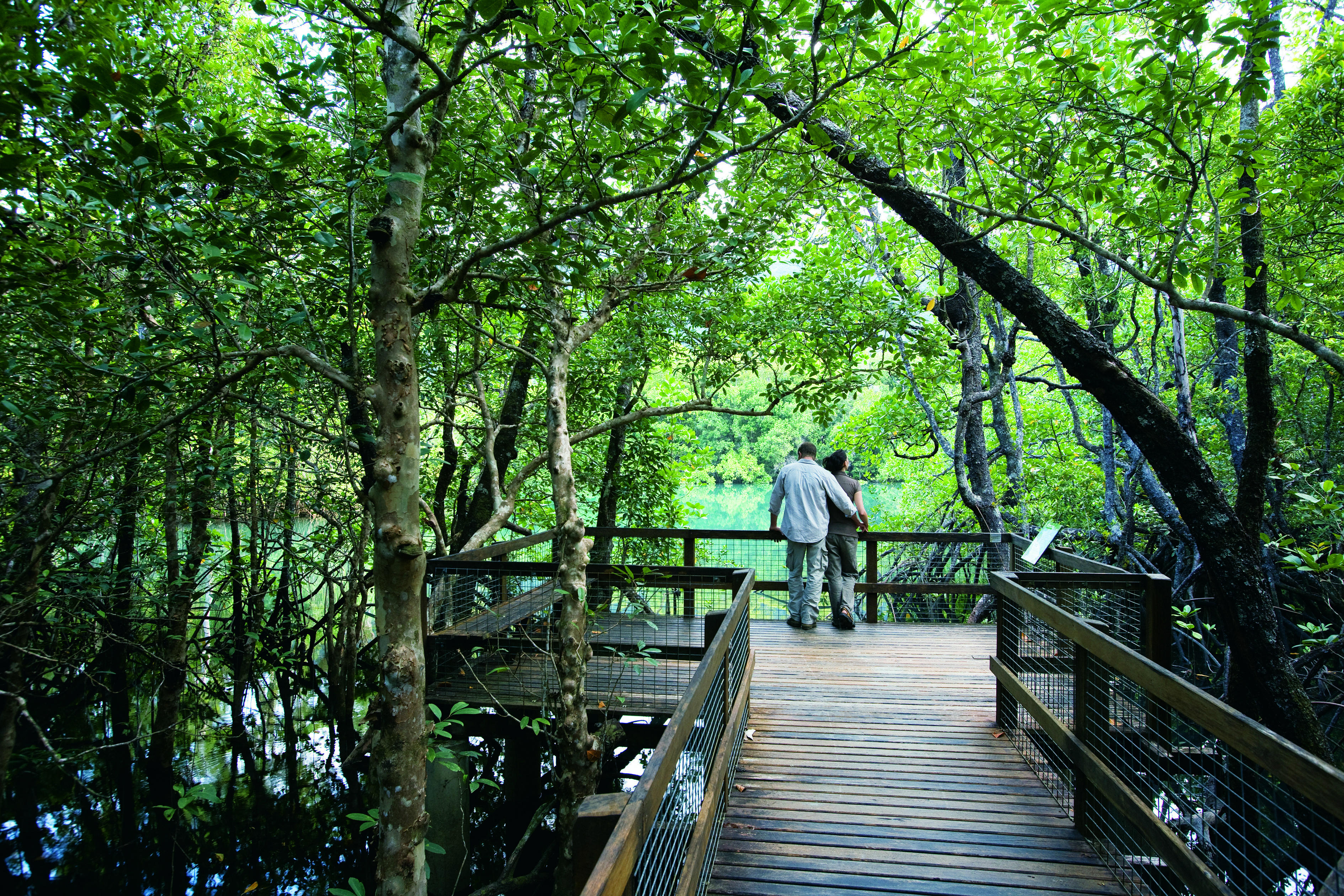 Lync Haven Wildlife Experience
Cute and cuddly kangaroos and swamp wallabies, a resident croc called Doris and a chance to meet the snakes, frogs and lizards that populate the Daintree – Lync Haven Wildlife Experience is a must. You can stay an hour, a day or overnight and the wildlife keeper on the property will be happy to answer your family's questions. The air is alive with the sound of birds and insects and your kids will love "camping" in this wilderness park. (PS – so will you – there's aircon).
What wildlife have you encountered while exploring the Daintree Rainforest?